A sad day for primates
Posted here (week 1673).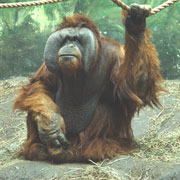 The Zoo had to euthanize my adopted animal on Tuesday. Kristan gave me parentship of Junior at Christmas with a plush orangutan that looks strikingly like him and hangs in my office.
I've decided to celebrate Junior's life by joining the Orangutan Foundation International.